Summary
Review of the Xiaomi Watch S1 Active in comparison to the Xiaomi Watch S1 and Mi Watch – What makes the sports-focused watch unique?
Overall
85%
PROS
Built-in GPS
Accurate heart rate during fitness
Strava compatible
CONS
Possibly a little expensive compared to the current Mi Watch (official pricing TBC)
The Xiaomi Watch S1 was announced back in December with Xiaomi 12 series. It is now receiving a global launch and a new fitness-focused Xiaomi Watch S1 Active launches alongside it.
The Xiaomi Watch S1 is designed to be a more premium solution compared to previous Xiaomi watches, it uses a steel chassis and sapphire glass. The S1 Active is a lighter, more sporty design.
Xiaomi Watch S1 Active vs Watch S1 vs Mi Watch Specification
I have not used the Xiaomi Mi Watch, but the Xiaomi Watch S1 is basically a larger version of it using premium materials, including a steel frame sapphire glass.
Xiaomi
Watch S1 Active
Watch S1
Mi Watch
Display
1.43" AMOLED display
326 PPI
450nits
1.43" AMOLED display
Sapphire glass
326 PPI
450nits
1.39-inch AMOLED screen
454×454
Dimensions
46.5 x 47.3 x 11mm
46.5 x 46.5 x 11mm
45.9×53.35×11.8mm
Frame
Metel bezel
Polyamide frame?
316L grade stainless steel frame
Glass fiber-reinforced polyamide
Weight
36.3g
52g
32g
GPS
Dual-band multi-system GPS
GPS, GLONASS, GALILEO, BDS, QZSS
Dual-band multi-system GPS
GPS, GLONASS, GALILEO, BDS, QZSS
Airoha GPS chip
GPS, GLONASS, Galileo and BDS
Sensors
PPG heart rate sensor (including SpO2)2
3-axis accelerometer
3-axis gyroscope
Geomagnetic sensor
Air-pressure sensor
Ambient light sensor
PPG heart rate sensor (including SpO2)2
3-axis accelerometer
3-axis gyroscope
Geomagnetic sensor
Air-pressure sensor
Ambient light sensor
Heart rate sensor
Acceleration sensor
Gyroscope
Geomagnetic sensor
Air pressure sensor
Ambient light sensor
Battery
470mAh LiPo
12 days typical
470mAh LiPo
12 days typical
420mAh
16-day typical
Water Resistance
5ATM
5ATM
5ATM
NFC Paymens
Yes
Region specific
Yes
Region specific
No?
Bluetooth
Bluetooth® 5.2/BLE
Bluetooth 5.2/BLE
Bluetooth 5.0
Sport Modes
117
117
117
Voice Assistant
Alexa
Alexa
Xiaomi Watch S1 Design Comparison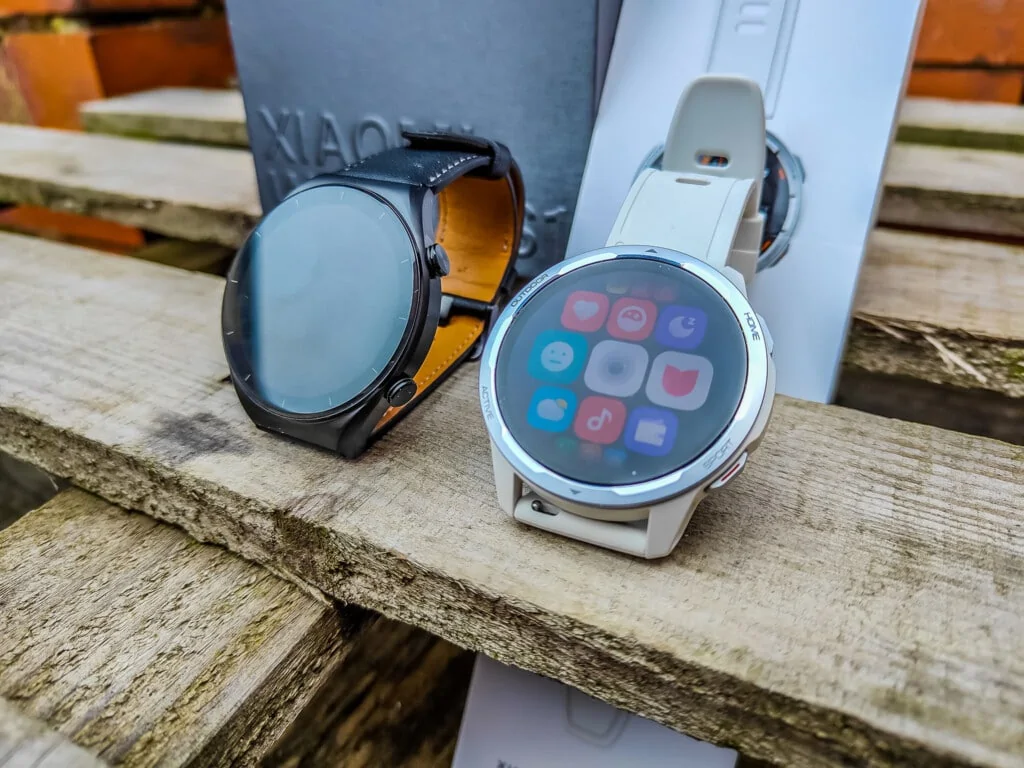 The main difference between the two watches is the overall design and build. Functionally they are identical, the none active model has the same number of fitness modes, and they both have Multi-system Dual-band GPS. Similarly, the Active model has all the same smartwatch features, including Bluetooth calls, voice assistant and NFC payment (region dependant).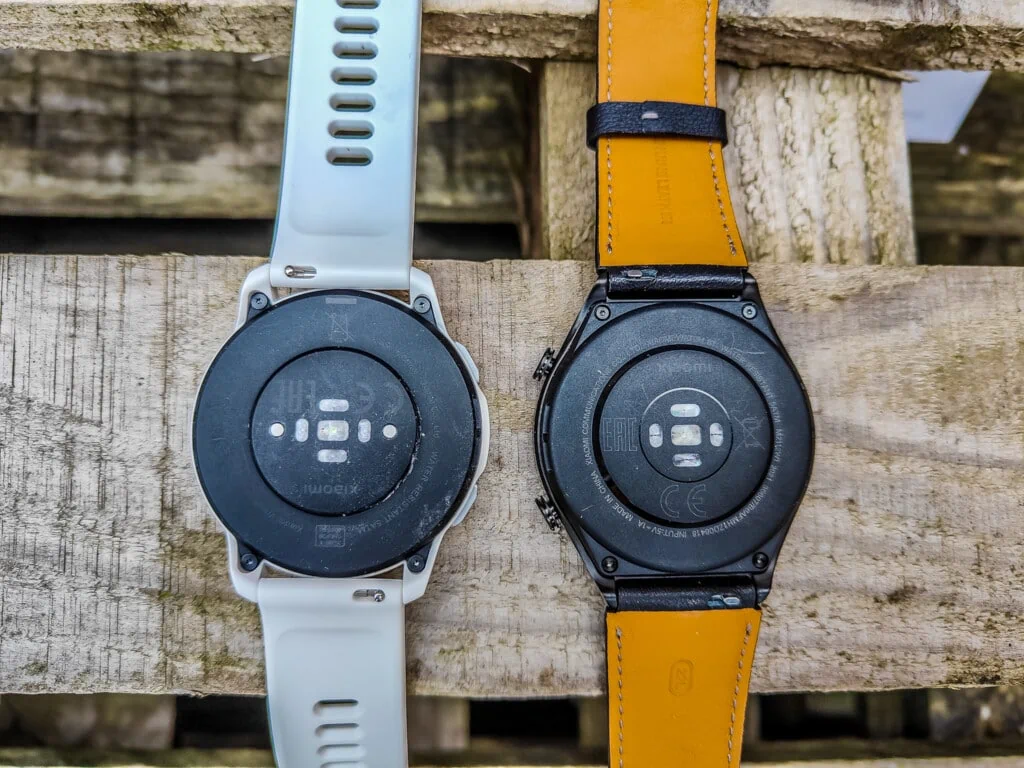 Visually they are very different, with the Active model being a sporty all-white design with a metal bezel and TPU strap. The Watch S1 has sapphire glass going edge to edge, then a black metal frame and black leather strap.
The normal Xiaomi Watch S1 weighs in at 52g in comparison to the 36.3g of the S1 Active. This is because it uses sapphire glass and a stainless steel case with a leather strap.
One potentially big difference is the way the watches charge. The S1 Active uses a proprietary charger with two small magnetic contact points. The premium S1 also connects magnetically to its charger, but it uses QI wireless and will happily take a charge on any pad style wireless charger.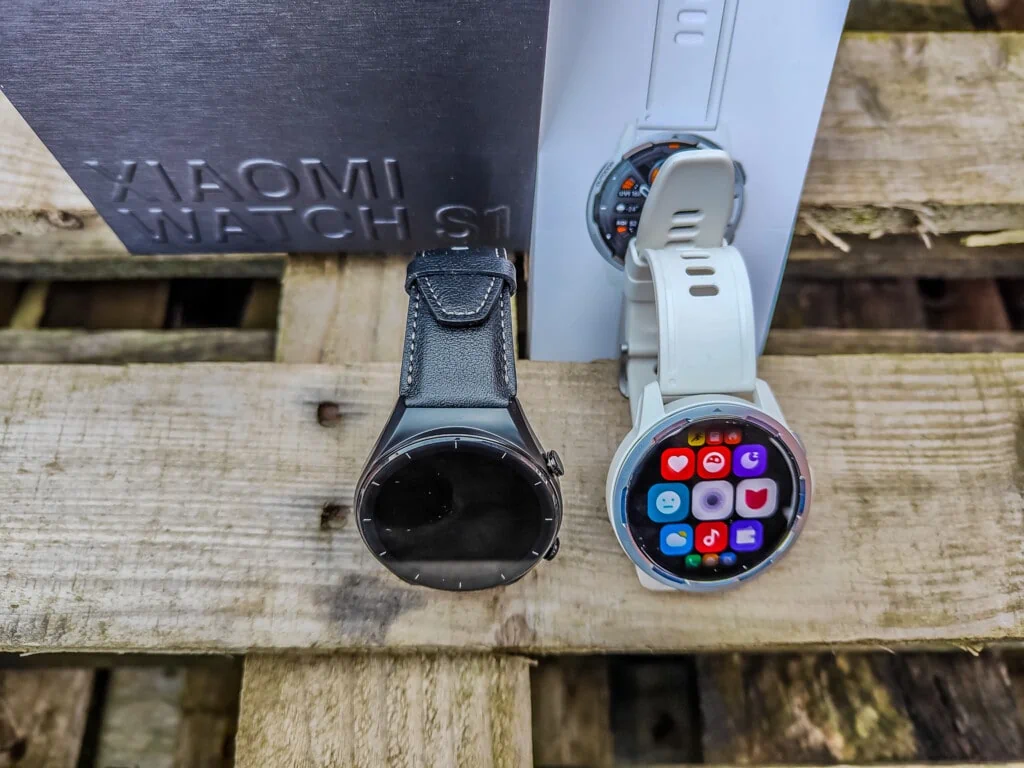 Set-Up
You will need the Xiaomi Mi Fitness / Wear app, and this requires you to sign up by providing your phone number.
Once you have set up the app, you can add a device, select the correct model and wait for it to start the set-up procedure. It will then need to do an update and sync.
You may want to tweak some of the settings depending on your requirements. Under the device tab, you can change the settings for several features. These will affect battery life:
You can change the heart rate polling interval it is 10mins as standard, and you can reduce this to 1m
I'd recommend enabling advanced sleep monitoring
You can enable blood oxygen monitoring either for sleep only or all day, and you can change the setting for every 10 or 30 mins. I'd recommend sleep only, or off.
Stress monitoring is off by default
You can also adjust your idle alerts. I have this off as I am already very active.
Connecting to Strava
Since the 14th of March, the app settings have changed for me. At first, it wasn't immediately obvious that Strava could be connected or how. You had to:
Go onto the profile page
Click the + button on the top right
Select settings,
Select Connected apps
Select Strava and login and authorise
Now you just need to click the profile tab, and there is the connected apps option clearly visibly.
At the moment, there is no other way to export your data properly, so if you use any other services, you will need to pull the data from Strava.
It would have been good to see other app integrations, but the inclusion of Strava is a massive selling point to me. It gives the Xiaomi watches a significant advantage over Huawei and Honor devices which require you to use the Health Sync app to export your data.
NFC Card Payments
This is advertised as having NFC card payments through Mastercard. Under the device tab, there is a Xiaomi Pay option, this will then make you set up a 6-digit punt, and you should be able to add your card.
However, I was unable to add my card, and I suspect this feature may not be available yet in the UK, or it could be just because I am using a watch that hasn't officially launched yet.
App / Watch OS / Smartwatch Features
Like many affordable smartwatches, this is more of a feature watch than a smartwatch. There are no installable apps to speak of; you get what you get given. This is good for keeping the price down and also extending the battery life.
There is a section within the app that says you can install apps. Previously nothing showed here, but following the recent update, there are now three apps:
My Tuner
Scientific Calculator
NumPuzzle
The Android app is OK. It is relatively easy to navigate all the data, and I like how the workout history is presented. I am not overly keen on the cartoonish design of the home screen with an animated avatar, but it doesn't make any difference to the usability.
You can't add friends, and there are no badges. Fitbit always had this feature, and it was one of the reasons why the company was so successful. The Apple Watch has friends and challenges, and Garmin have recently aggressively started to expand the social features within their app
Sports Tracking
Like many smartwatches nowadays, this can track a massive number of different activities. In general, there is little functional difference between activity profiles. It is just a way for you to categorise your different activities.
For things like outdoor running, you can set up goals and alerts. It is relatively basic, but you can have time, distance and calorie goals than time and distance alerts. You can also have activities auto-pause when you stop.
The data it tracks is good and comparable to many other fitness focussed smartwatches. For running you have calories, pace, average heart rate, steps, cadence.
You then also have time in zones based on your HR, and it will also give you your VO2Max rating once you have completed enough outdoor runs.
The data that gets exported to Strava is only basic and doesn't transfer any cadence information.
There are no advanced stats such as recovery or performance condition

I have found that GPS acquisition is quite slow, and it can take a couple of minutes, depending on the weather. In comparison, my Garmin Fenix 6 Pro normally connects within 30 seconds. However, once the satellites are locked on, accuracy has been good.

Heart rate accuracy has been surprisingly good. During a recent run, I would say it outperformed my Garmin and didn't suffer from the same peaks and troughs.
Health Features
The general health-tracking features are quite good and comparable to other brands.
Sleep tracking works OK. I rarely find any wearable accurate for sleep, but this seems to provide a comparable result to my Garmin.
All-day heart rate gives you a breakdown of minimum, maximum average and resting. Different brands seem to use different values for RHR, but the minimum and max match up with my Garmin.
You then have calories burned, standing time, stress, plus others.
Battery
Xiaomi states this should last about 12 days with typical usage. As I track quite a lot of activities, I have been charging it more frequently than that, but it is still superb. I am happy with any watch that only needs charging once a week.
Price, Availability and Alternative Options
At the time of writing, the official prices have not been announced. Amazon Germany has the Xiaomi Watch S1 Active listed at €195, which is about £165.
It then lists the Xiaomi Watch S1 Black as €243.84 or £205.
The smaller Xiaomi Mi Watch has an RRP of £119 and is currently available from Amazon for under £100. This makes it one of the cheapest options on the market that has built-in GPS and the ability to export to Strava.
There is also the Amazfit GTS 3 for £149, it has a similar set of features, including GPS and exporting to multiple health platforms.
The Huawei Watch GT 2 is priced at around £105, and the premium GT2 Pro is £165. The new Huawei Watch GT3 costs between £206 and £219. They are all excellent watches but you would need Health Sync to export your data out of the Huawei Health platform.
For Garmin, you have the budget Vivoactive 3 for about £120, the Venu SQ for £162, the Venu for £199 or the Venu 2 for £300.
Overall
Both of the Xiaomi Watch S1 watches are excellent, with the S1 being a good first attempt at a more premium solution. They both do everything I personally want from a smartwatch. Phone notifications and sports tracking exporting to Strava. Sports tracking seems to be accurate, especially GPS and heart rate.
I think I prefer the overall build and design of the Huawei watches, and I prefer the Huawei Health App, but I hate that you have to use a third-party app to export your data. It makes it hard for me to recommend them to anyone serious about fitness.
I am clearly heavily biased towards smartwatches that have Strava support, or at least proper data export. If this is something that is of no interest to you, then these are still excellent watches but a little less appealing as it opens you up to so many other good watch options. For example, If the above prices are correct, the Huawei Watch GT 2 and GT 2 Pro are well worth considering as alternatives.